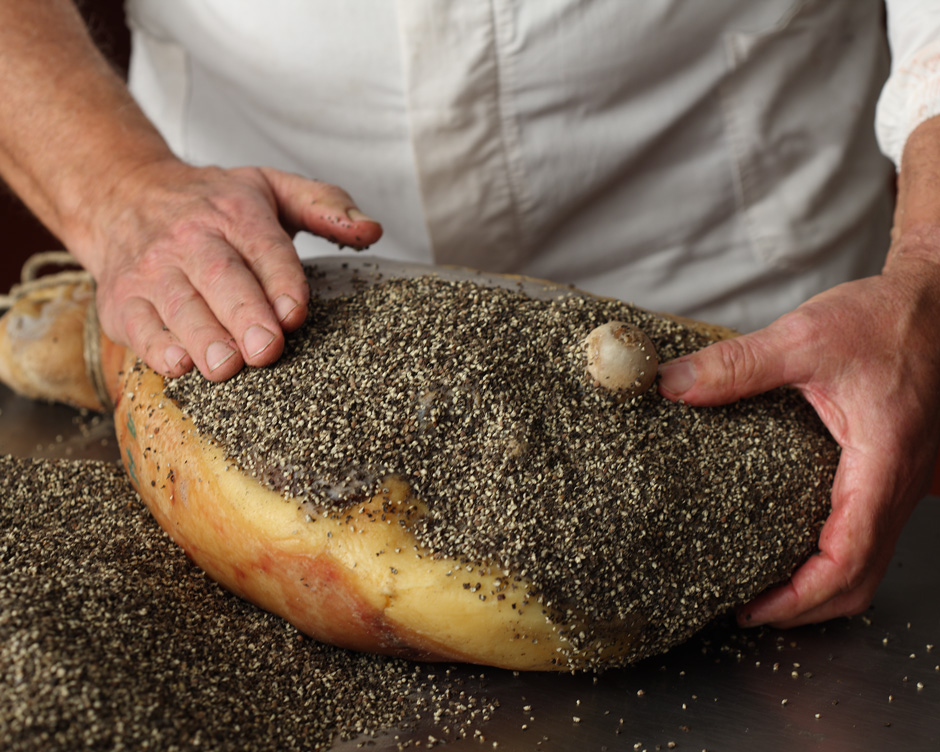 Research, development and quality control
Values are the foundations on which a company is built. The expression and sharing of values help to consolidate its identity, to describe its daily activity, to convey its purposes and to guide every single operational and entrepreneurial decision. The Salumeria di Monte San Savino has drawn up a handbook of valuesthat guide the production of every single product.
PASSION
– From a small family shop to a large company: we have been producing cured meats since 1968, with passion and skills handed down from father to son;
CRAFTSMANSHIP
– Craftsmanship is synonymous with "done well": we oversee every stage of production with obsessive care, from the choice of raw materials to the final check;
QUALITY
– Our work is driven by a single goal: our aim is to bring to every table a healthy, genuine, good and authentic product without preservatives;
TUSCAN ORIGIN
– The typical Tuscan culture of good food narrated by our cured meats: we pay particular attention to the protection and enhancement of regional agri-food products;
TERRITORIALITY
– The close link with the territory is synonymous with genuineness and tradition: we know, evaluate and choose the numerous local suppliers of pigs, spices and every company that supplies us with pigs, ingredients and other raw materials for the production of our cured meats;
INNOVATION
– A company with an artisanal inspiration but with great vision: we grow through investments in cutting-edge machinery and technologies which, with the irreplaceable control of our professionals, result in a constant improvement in production;
VARIETY
– An ever richer and more complete catalogue to satisfy every palate: we are committed to offering traditional Tuscan cured meats accompanied by the introduction of delicious novelties of our own design;
HARMONY
– Each cured meat is characterised by the correct balance of flavours, tastes and aromas: we seek out new harmonies between pork and other ingredients that enrich and make our products unique;
RESPONSIBILITY
– Products of territorial origin, farms inspired by sustainability criteria and sensitivity towards biological solutions: we are driven to protect and respect the environment;
TRUST
– All our values focus on the maximum satisfaction and contentment of the final consumer, on winning their trust: we strike to provide opportunities for happiness and gastronomic pleasure.